OBAGI MEDICAL
Obagi Medical Products are the Number 1 physician dispensed skin care range in the world. Here at MKSkin Clinic, Milton Keynes, we offer Obagi medical skin care range and treatments.
OBAGI HYDRATORS
Obagi medical hydrators provide long lasting hydration. Using innovative technologies and naturally derived ingredients these hydrators are non-irritating and are designed for a variety of skin types. Obagi hydrate and hydrate luxe are non-comedogenic, non-greasy, so do not block pores. Specifically engineered with key biomimetic peptides, Hydrate Luxe is ultra-rich providing extra strength hydration and has a luxurious balm like texture. It contains Shea & Mango Butter, avocado and Hydromanil, providing consistent improvement in skin moisture retention.
OBAGI MEDICAL SUN PROTECTION
Protection from the sun's UVA and UVB rays is important all year round, not just during the summer or at the beach. UVA and UVB rays can cause sunburn, brown spots (sun spots), faster skin ageing, and increased skin cancer risk.
Physical and/or chemical ingredients in these sun shields provide broad-spectrum protection for all skin types. Obagi Sunscreens provide UVA, UVB, and provide additional Infrared Radiation protection, to reduce the signs of skin ageing and keep your skin looking healthy.
Sun Shield Matte SPF50: Obagi Sun Shield Broad-Spectrum SPF50, uses micronized zinc oxide and octinoxate to protect new, younger-looking skin through high UVB absorption and dynamic UVA protection.
Sunshield Tints SPF50: Obagi Sun Shield Tint Broad Spectrum SPF 50 sunscreens use the best of both physical and chemical ingredients to provide broad spectrum protection against harmful UVA/UVB rays, and additionally, defends against Infrared (IR) rays. Available in a Warm or Cool tint to complement the unique undertones of your skin.
OBAGI ELASTIDERM
Obagi ELASTIderm cream is a light weight, ophthalmologist tested cream, formulated with a bi-mineral contour complex to help reduce the appearance of fine lines and rejuvenate the skin around the eyes.
OBAGI NUDERM SYSTEM
Obagi Nuderm system has been carefully formulated to benefit a range of skin concerns, catering to all skin types. This system contains formulations specifically designed for those who have normal to dry skin and normal to oily skin. It transforms your skin from the inside out while reducing the visible signs of ageing, making it ideal for those who have sun spots, rough skin, sallow complexion, and hyperpigmentation. This Rx product requires a consultation with our expert medical team.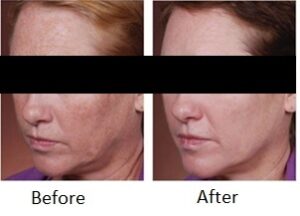 OBAGI BLUE PEEL RADIANCE
Here at MKSkin clinic in Milton Keynes, we offer Obagi blue peel radiance treatment in our clinic. It a salicylic acid-based peel that exfoliates and provides tighter, smoother, glowing and a brighter looking skin. A series of 5-6 peels provides best results. It helps improve uneven, rough skin and mild to moderate photodamage.