Before Treatment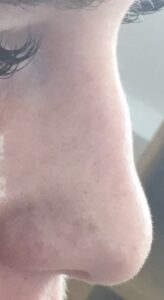 After Treatment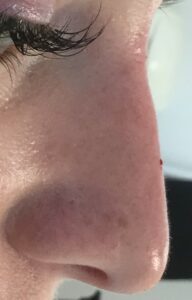 Non-surgical rhinoplasty (Nose filler) is a medical procedure in which injectable fillers are used to alter and shape a person's nose without invasive surgery. The procedure fills in depressed areas on the nose and smoothing the appearance of bumps on the bridge of the nose. This quick technique results in better symmetry and more defined nose contours.
Am I a candidate for non-surgical Rhinoplasty?
If it is the shape of your nose, rather than its size, that is causing concern then a non-surgical rhinoplasty is an excellent, affordable option for those who want to change the shape of their nose without invasive surgery, as there is no or minimal downtime, no general anaesthetic and no prolonged healing. The patient retains complete control over the procedure, as they are able to see the results unfold as the injections are administered. Non-surgical rhinoplasty is a safer, non-invasive alternative to the traditional rhinoplasty.
Nose filler (Non-surgical Rhinoplasty) treatment:
Here at MKSkin clinic, Milton Keynes, we offer nose filler or non-surgical rhinoplasty. At MKSkin Clinic in Milton Keynes, all our treatments are carried out by qualified doctors. Safe and effective treatments remain our top priorities.